Awards and recognitions
GreedyTorrent becomes the editor's pick at Software Informer with a rating of 5 stars.
Click here
to visit GreedyTorrent at Software Informer.
GreedyTorrent awards page on Software Informer here
GreedyTorrent becomes a featured software with a rating of 9 out of 10 at
en.softonic.com
.
Click here
to visit GreedyTorrent on en.softonic.com.
"Softonic gives special recognition to software of exceptionally high quality."
GreedyTorrent was awarded
4.5 out of 5
rating by
en.softonic.com
on March 14, 2007.
Click here
to visit GreedyTorrent on en.softonic.com.
"Softonic is the largest download portal in Europe and the only one in the world offering free software downloads and reviews for the Spanish, German and English speaking markets. Softonic installs and tests every program that is added to the library."


GreedyTorrent received the
100% Clean
award from Softpedia.com on March 20, 2007.
Click here
to view the award page on Softpedia. To visit the GreedyTorrent page on Softpedia,
click here
.
"Softpedia guarantees that GreedyTorrent is 100% CLEAN, which means it does not contain any form of malware. This software product was tested thoroughly and was found absolutely clean, therefore it can be installed with no concern by any computer user."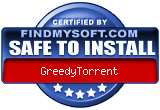 FindMySoft.com tested GreedyTorrent 1.0.1 Beta 170 on 19 Jun 2009 and has been found "SAFE TO INSTALL" on any computer. It has been granted the "SAFE TO INSTALL" certificate. This means that the software contains no viruses, spyware, adware, Trojans and backdoors and installing it poses no threat to the operating system. Click the logo to visit GreedyTorrent page on FindMySoft.com.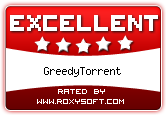 Here is another award from Roxysoft: "On 30 Jul 2010, we have tested one of your software products: GreedyTorrent 1.0.1 Beta 170. Installation went smooth on two of our test computers and we have found no adware, backdors or viruses in the installation kit. After reviewing GreedyTorrent 1.0.1 Beta 170 we have found it to be EXCELLENT and we would like to congratulate you for the quality of your product."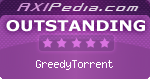 Axipedia rates GreedyTorrent as OUTSTANDING! Here's what Axipedia has to tell about GreedyTorrent: "We trust GreedyTorrent to be a very useful software and we have awarded it with the "OUTSTANDING" Award."